For years I have been intrigued by the largest and oldest inhabited continent on the planet, the melting pot of culture and civilization from time immemorial, the home to the wildest and the gentlest – Africa.
The only time I have stepped in it was as a teenager, when my parents took me to Egypt, and I distinctly remember being stunned by all what it had to offer, even at that young age. So, when my cousin mentioned he wanted to go someplace interesting for the Eid holidays this year, the idea of southern Africa sprung to mind immediately.
Given my recent travels and affinity towards spending hours on message boards and tourism websites, I have become the travel consultant of choice for many a people, and to be honest, it has become something I really enjoy doing! While putting together my brother's itinerary, I recall gaping at the images that I was seeing – the untouched nature to the sheer breathtaking landscape of the region. So much that I managed to convince my parents that we should visit South Africa as well, for our annual family trip.
And so we did! From beach-bumming to spotting lions yawning away in the bushveld, from seeing vineyards climbing mountainsides to driving through open roads and sublime scenery – it became one of the most memorable places I have ever been to, yet.
The connectivity within the various South African cities is decent, but rather limiting for tourists. This made it a little difficult for us to manage time most ergonomically and we ended up flying across the country in a haphazard manner, transiting through Johannesburg airport a total of four times within ten days!
We started our journey with Emirates from Muscat via Dubai and reached Johannesburg's O.R. Tambo International Airport in around nine hours, in what was a quite comfortable journey. I hadn't travelled Emirates transcontinental, long haul before, and I now know why they are so acclaimed – the Boeing 777-300 ER, with its extra-roomy seats in Economy, high resolution personal TV screen, excellent on-board cuisine and the stars projected on the ceiling at night, were all quite enjoyable.
After flying across an entire continent, one would expect a speedy immigration process and a mildly pleasant reception, but I guess even immigration officers aren't morning people and we took over an hour to be stamped into the country. But that was probably the sum of all things we could complain about, on this trip.
I had read and heard much about the notoriety of South Africa and how it was 'unsafe' for travellers, but I was pleased to discover that it was as true as the Indian stereotypes of snake charmers and elephant riders – they represented the country once, but much has changed since. There was not one instance that we felt uncomfortable or overtly cautious during the trip – and ever since I've returned, I have made it a point to tell everyone how unnecessary worrying about safety was.
The Republic of South Africa, as it is officially known, is a fascinating country. Having been subjected to years of apartheid and a white-minority rule, it is truly remarkable that the nation has been able to set aside centuries of racial hatred and move towards peaceful reconciliation. Today's South Africa is a vigorous multiparty democracy with an independent judiciary and a free press. It can be seen how this social miracle that came into being as recently as 1994 has ensured that the country has flourished and become a beacon for inclusive diversity in the world.
My trip to South Africa and Zimbabwe was a fulfilling visual and experiential journey and hence it seems only fit to narrate it in that manner.
We headed first to the it-destination to see animals in the wild – Kruger National Park. Established in 1898, it is one of the largest game reserves in Africa and encapsulates the beauty and diversity of the African wilderness.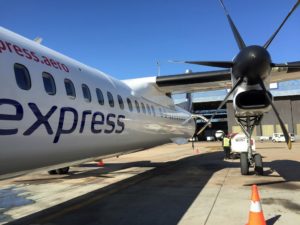 SA Express propeller plane which took us to Kruger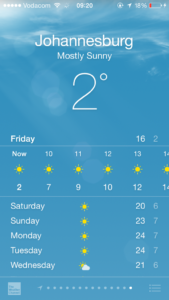 Freezing in Joburg!
Landing into Hoedspruit airport, we were promptly received by representatives from our lodge – the Kapama River Lodge. Pretty sleep deprived but very excited to see the wildlife, we checked in, changed, fed ourselves and got ready for our afternoon game drive.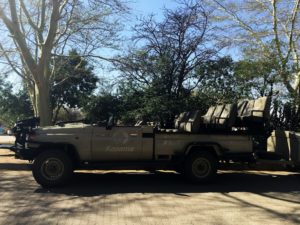 Our ride – a modified Toyota Land Cruiser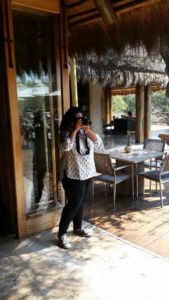 Changed into my giraffe shirt and ready to click away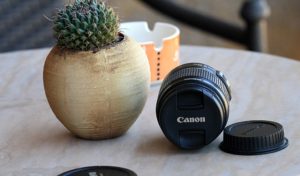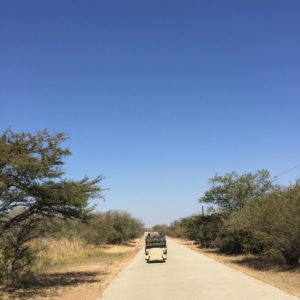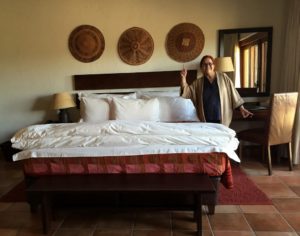 Ma seems pleased with her room…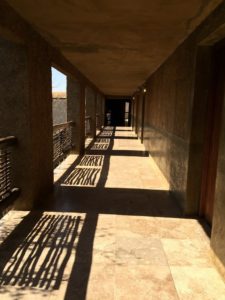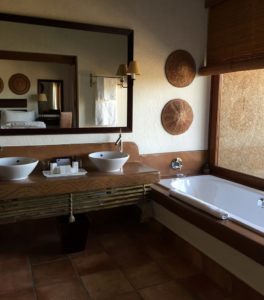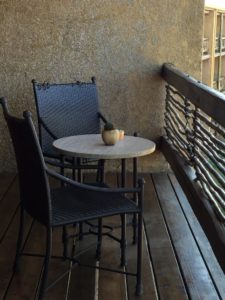 The patio was my favourite bit of the room
As we climbed aboard the nine-seater Land Cruiser and drove into the wilderness, it was like switching on the television and flipping to Animal Planet. But better, and real!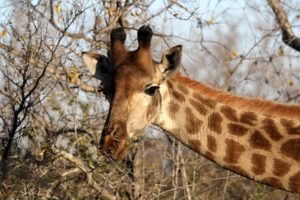 Gentle and graceful. The Giraffe.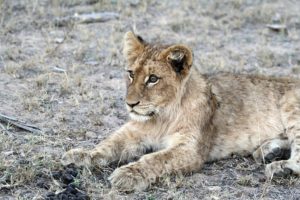 This very handsome cub was a bit of a poser.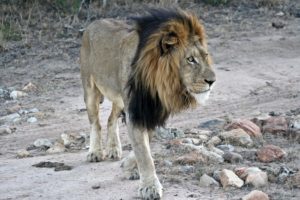 Daddy lion!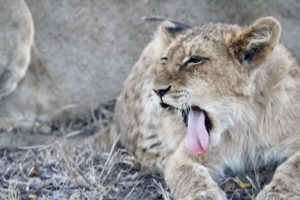 The lionesses were just waking up from their siesta when we found them – perfect timing!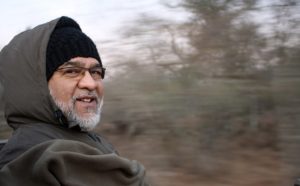 It was freezing in the open top jeep at nights and early morning. F.R.E.E.Z.I.N.G.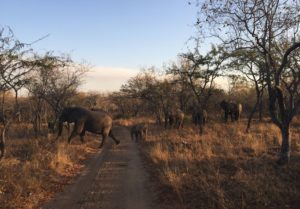 Herd of Elephas Maximus, spotted!
And that's all we did for the next three days – went on game drives twice a day for three hours each time, stuffed our faces with amazing food, made friends with the Kapama staff, lazed around at the pool and spa and hoped that time would pass really slowly.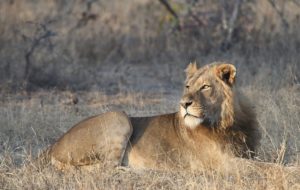 I love how the morning light reflects in his eyes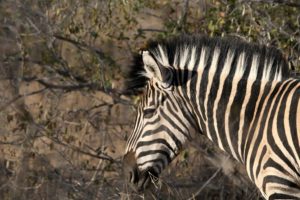 My favourite equine!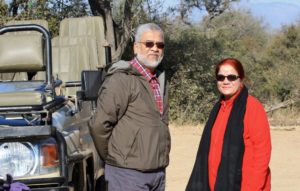 Safari-ing parents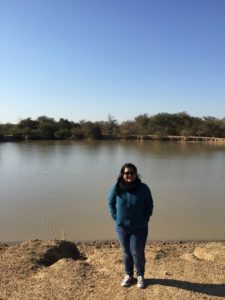 We stopped at this lake hoping for the hippos to show up, and they were being very coy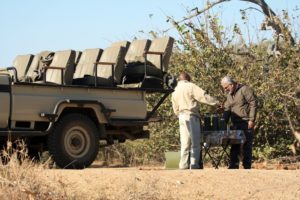 Coffee break, where Baba chats up our ranger whose name was Freedom 🙂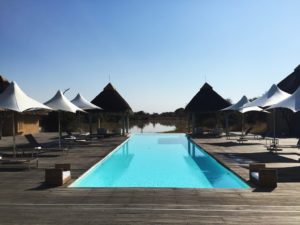 Back to the lodge and straight to the pool!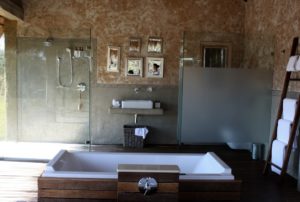 And a spa session couldn't hurt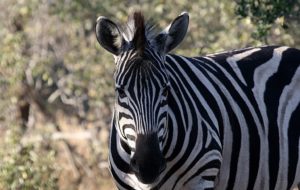 We usually saw more animals on the afternoon drives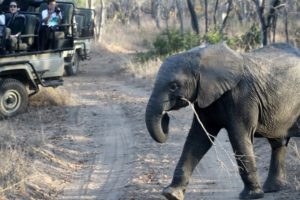 How adorable is the calf, ambling around munching on a twig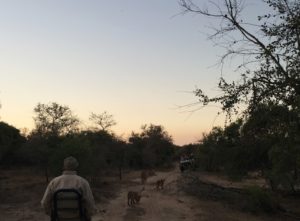 Ringo, our tracker found another pride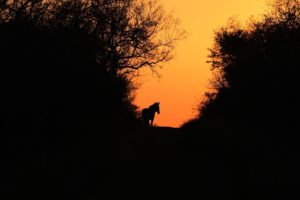 Almost sunset and somehow I managed this zebra silhouette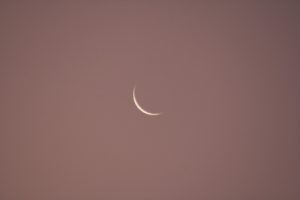 And one of the crescent!
Kapama River Lodge, our rustic home in Kruger, was right in the middle of a wildlife reserve with uninterrupted views of the expansive natural premises. The best part about it was the fact that you could look up to the skies at night and see the Milky Way – I cannot even remember the last time that I was able to spot constellations properly, so this has me spellbound! The African game drives are about spotting the 'Big 5'. Originally used only by hunters, the term refers to five of Africa's greatest wild animals – the lion, leopard, elephant, buffalo and rhino. I was lucky to see all except the elusive leopard. And like the lodge manager told me, it give me reason to come back!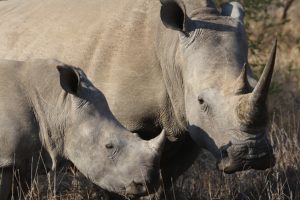 The African white rhino – father and son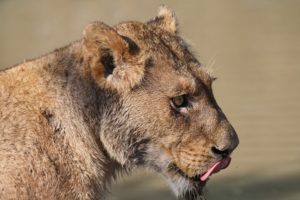 Lioness at the water hole – I am obsessed with their eyes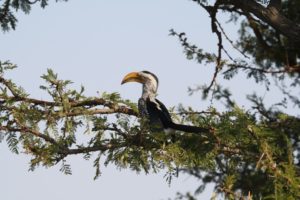 The Yellow-billed Hornbill. So very difficult to photograph  as they hardly ever sit still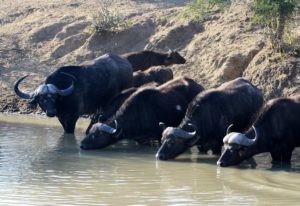 The African buffalo, said to be the deadliest of the Big 5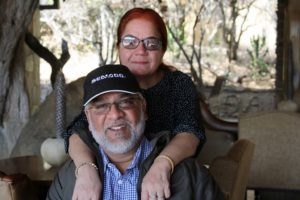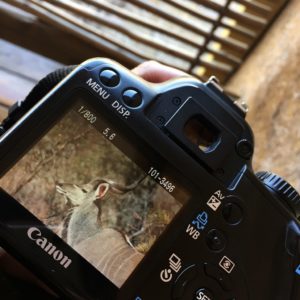 NEVER go to a safari without the proper lens!
The next morning, after our game drive, we were driven back to the airport to take our South African Express flight to Cape Town – the mother city! And what sights awaited us even from the aircraft. My hairstylist who hails from South Africa, told me to make sure I take a flight that gets into Cape Town during daytime – and the views from my window seat made me realise why…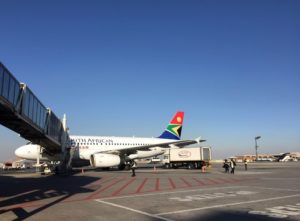 Taking off from Joburg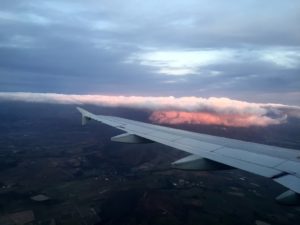 Almost looking like a mushroom cloud, this section was reflecting the last rays of the Sun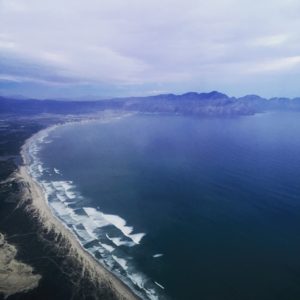 The jaw had to give in to gravity.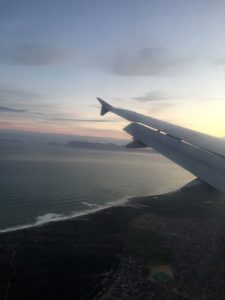 Just one last one. I only wish there was a little more light here..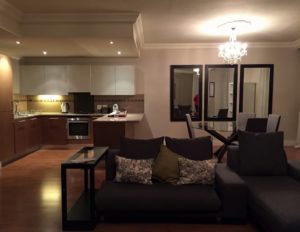 Home in Cape Town, the Cape Royale. Apartments trump hotels!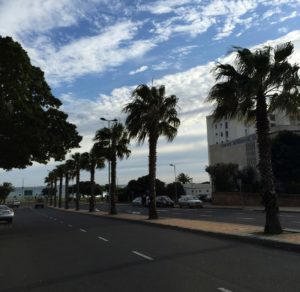 Tad Miami-esque?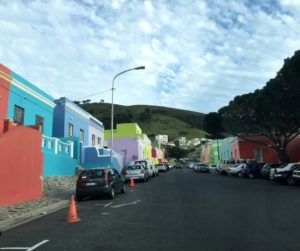 Bo-kaap!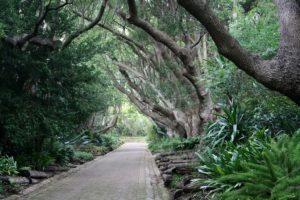 Lane of Centenarian trees in the entrance of the gardens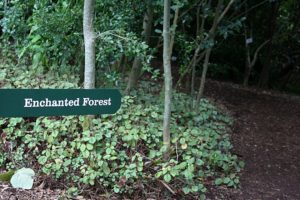 This way, please!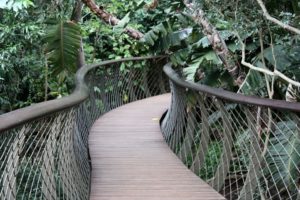 The Tree Canopy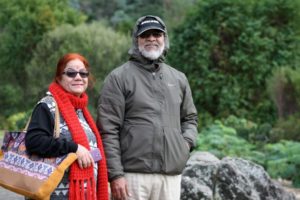 Ma-Baba 

❤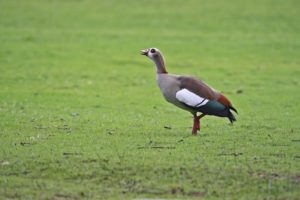 Egyptian Geese, one of the birds we saw in the gardens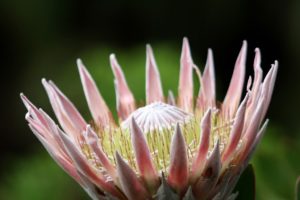 The majestic King Protea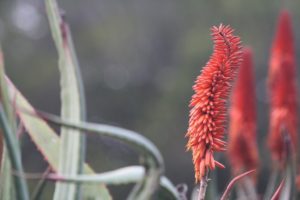 Winter aloe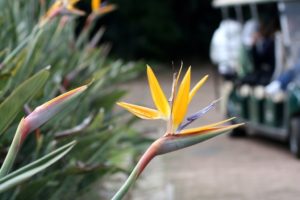 'Mandela's Gold' – the yellow crane flower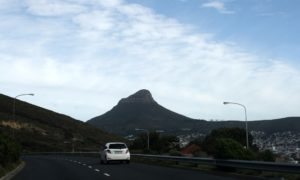 Signal Hill, in the distance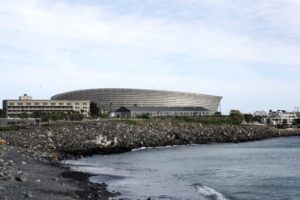 The Green Point stadium, as seen from the Waterfront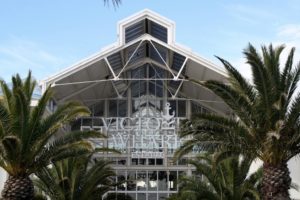 Everything named after the Queen!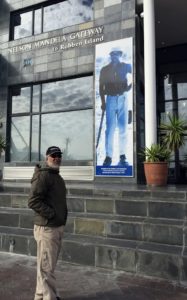 Entrance to the Robben Island ferry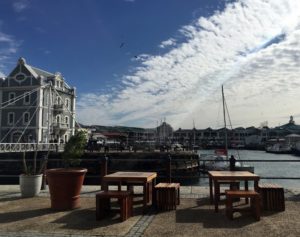 The Wharf. Reminded me of San Francisco's thriving one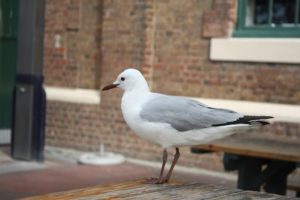 Mine.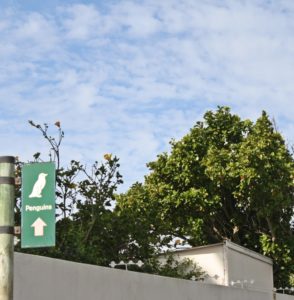 This way for penguins.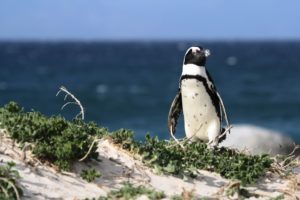 The first sighting, against the azure Atlantic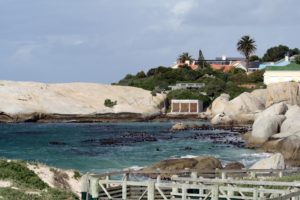 Boulders Beach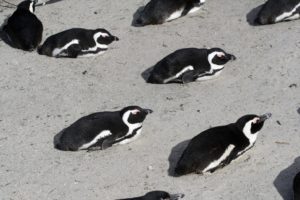 Soaking up the Sun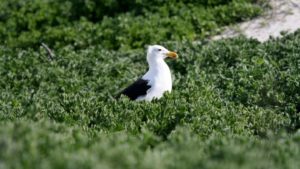 A Kelp Gull.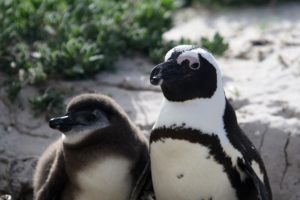 Mother and baby penguin.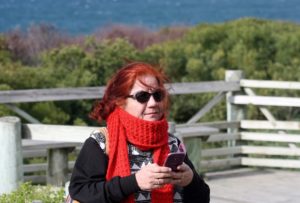 Winter wardrobe looking good on Ma 🙂
At the tip of the Cape Peninsula, 60 km south-west of Cape Town, lies Cape Point, a nature reserve within the Table Mountain National Park. We drove the distance past spectacular bays, mountain routes and grazing ostriches. This country is one large postcard!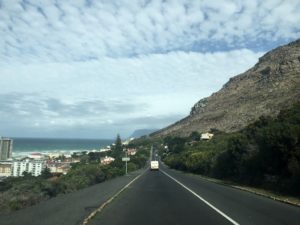 Enroute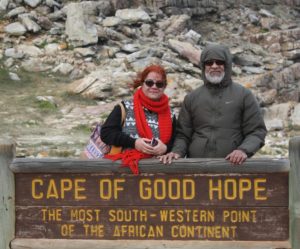 At the Cape of Good Hope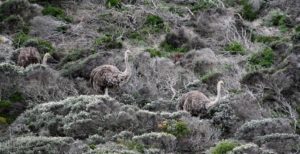 So camouflaged, but spot the Ostriches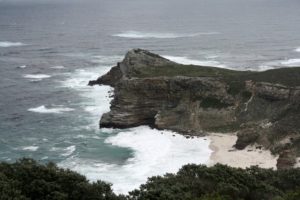 That tip of land is the south-western most point, as we see it on a map… It was really windy and hence the angry sea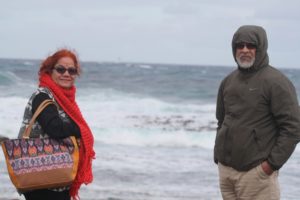 These two ran back to the car immediately after this photograph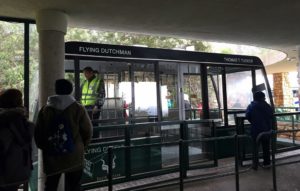 The Flying Dutchman – funicular to the top of Cape Point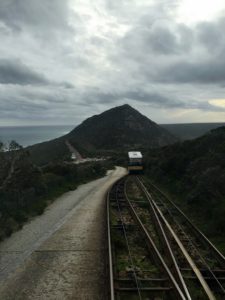 Up, and away!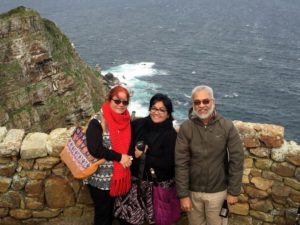 Fought past several fervent Chinese tourists to get this photograph 😀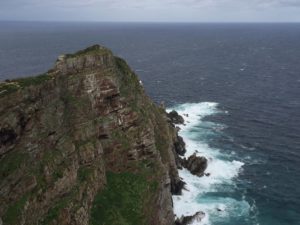 Cape Point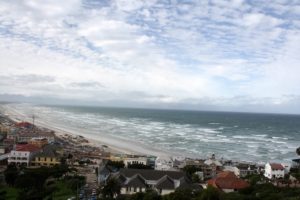 I made Leonard, our driver and guide stop simply too many times to photograph views such as these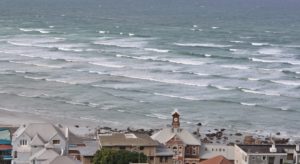 Sigh.
On our way back, I surprise Leonard, our guide with my obsessive research skills and asked him to take us to Cape Town via Chapman's Peak Drive. This 9 km route which takes motorists on a winding, seaward road with 114 curves from Hout Bay to Noordhoek, is widely regarded as one of the most scenic drives in the world. And whoever said that wasn't exaggerating.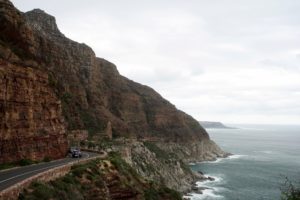 Just one section of the winding roads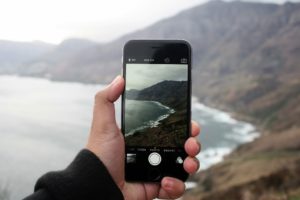 Wild seas and craggy cliffs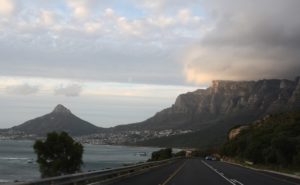 The Twelve Apostles on the right, shrouded by cloud cover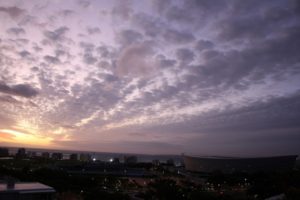 Lilac sunset, as seen from the terrace of our apartment
After several glasses of South African pinotage and nagging by my 13 year old nephew about being a spoilsport as I was still quite grief stricken, I was coaxed into believing that we would do different things on land, instead of visiting the whales or Robben Island. And that's what happened – we got aboard a big Red Bus and saw parts of the city we hadn't yet, tried our luck to see the Cape Fur seals at Hout Bay (we almost got there), lazed around at the Waterfront, took loads of selfies, went on a wine lands tour and tasting session and had a fantastic three days!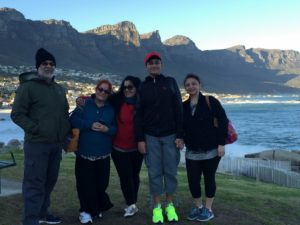 Chakraborty meets Ghosh!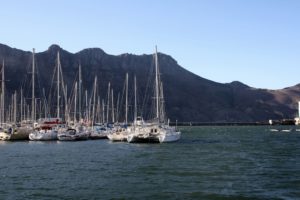 Hout Bay harbour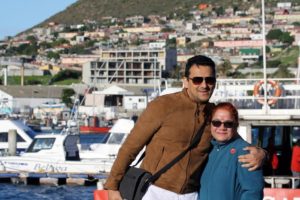 These two posers 🙂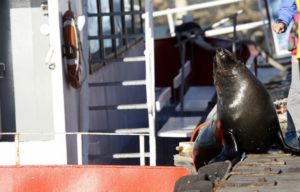 A seal!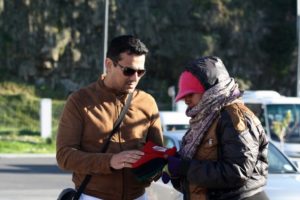 Dada, buying everyone beanies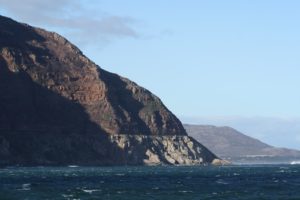 Emerald waters of the Atlantic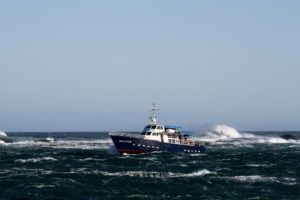 The sea was really crazy that day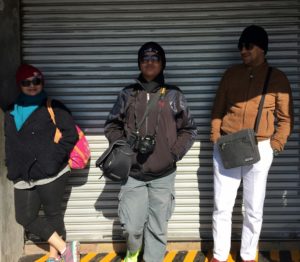 Thugs.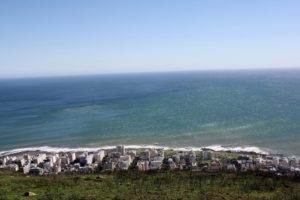 The Atlantic seaboard, as seen from Signal Hill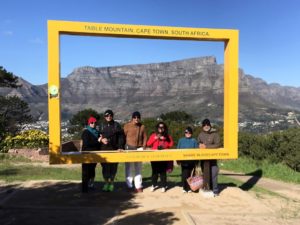 Yet another NatGeo frame! But SO windy!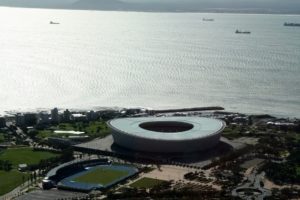 Another view from Signal Hill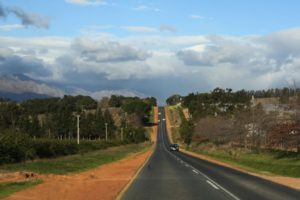 The road to Stellenbosch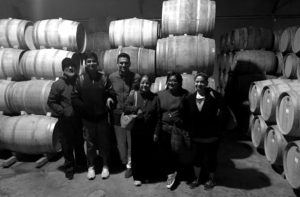 Having just concluded the tour of Anura's cellar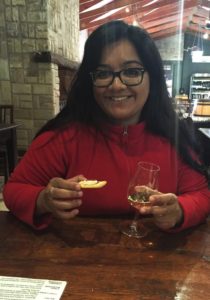 My first ever wine-tasting! One does get a little tipsy from all that constant drinking…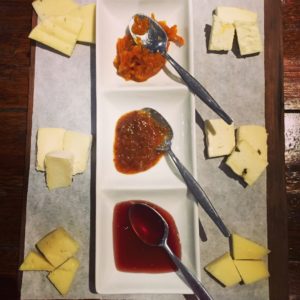 Cheese and relish. YUM!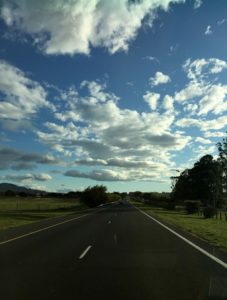 Picture perfect!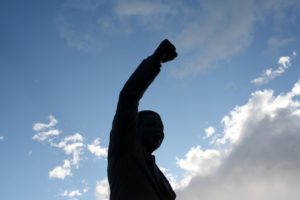 Stopping by the Victor Verster Prison, where Madiba was released from, in 1990.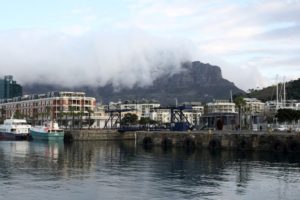 It took me 2.5 seconds to fall in love with this city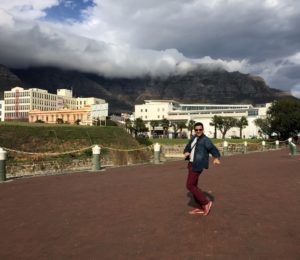 Dada does a Govinda!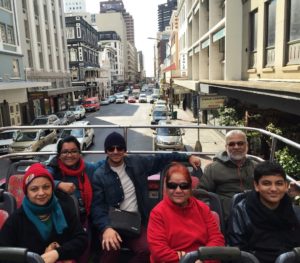 Red Bus. What fun!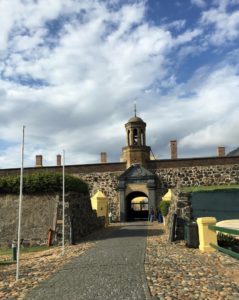 The Cape of Good Hope Castle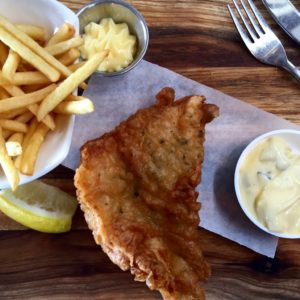 Beer-battered Bream with pomme frites and tartare!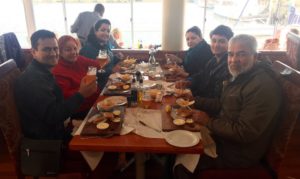 Lunch at Den Anker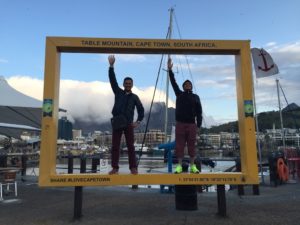 These boys are simply too tall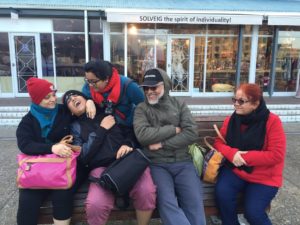 Familia 🙂
After four lovely days in Cape Town, we were flying to Zimbabwe to see the Victoria Falls, while Dada and family were Kruger bound. We got on an early morning flight and landed at the Victoria Falls Airport by afternoon (warning: everything in this town is named Victoria Falls). On meeting Mhithule (prounouce Meh-thu-li), our guide, we checked into the Victoria Falls Hotel (Itoldyouso) – a grand Edwardian-era, sprawling property that was built in the early 1900's. There wasn't much time to look around the hotel as we had a packed itinerary – we would be visiting the Falls and then taking a boat ride on the Zambezi river.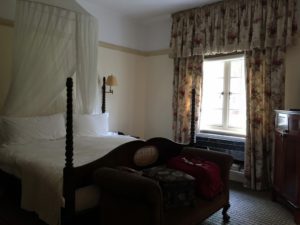 When was the last time that you saw a room with a mosquito net?
Mosi-oa-Tunya, which translates from Tsonga into 'The Smoke that Thunders' is what the locals call Victoria Falls. We could see why as we drew closer to them and heard a distant rumbling. As we got our passes and walked towards the Falls, we could feel the spray and I was positively bursting with excitement. I have a thing for waterfalls – they fascinate me, and seeing the largest falling curtain of water in the world, one of the seven natural wonders was only seconds away!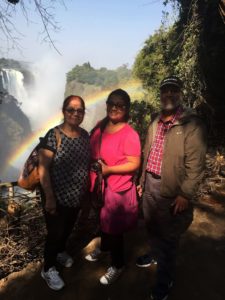 Rainbow-framed family picture!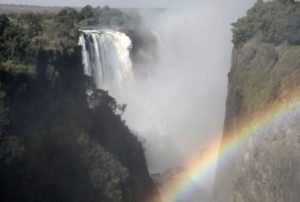 Such majesty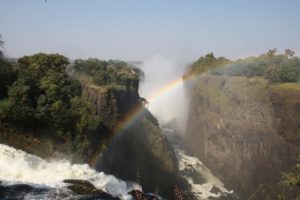 Devil's Cataract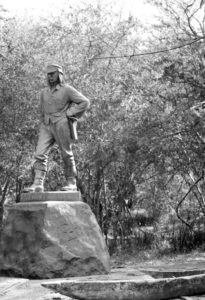 Livingstone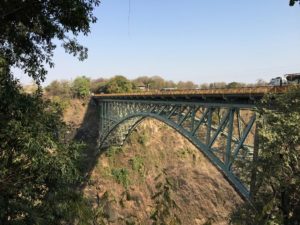 Bridge across the Batoka gorge – Zambia on the left and Zimbabwe on the right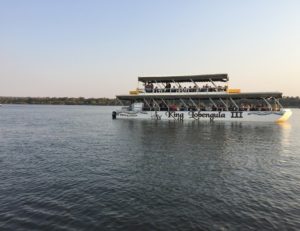 Floating on the Zambezi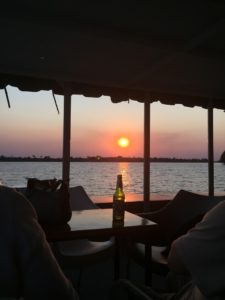 The gorgeous African sunset